Obsolete gadgetry can pollute poorer countries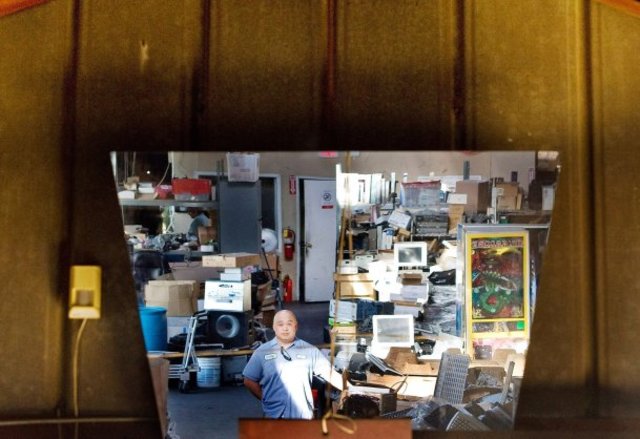 A mirror at EZPC Recycle in Santa Ana reflects the image of owner Chris Chun and the hodgepodge of electronics he recycles. The privately operated recycling facility pays consumers a few cents a pound for e-waste such as old televisions. Recycling centers are paid to collect e-waste as part of a state program in California funded by fees charged to consumers when the electronics are sold.
PHOTO BY MINDY SCHAUER, ORANGE COUNTY REGISTER
Christmas gifts of yesteryear meet an inglorious end at Absolute Green Electronics Recycling in Lake Forest. Computers are dismantled, the parts sorted into cardboard bins. One holds nothing but hard drives, another AC adapters. Bins stretch in rows across a mammoth warehouse – a bin for graphic cards, a bin for cooling fans, also cellphones, VHS camcorders, digital cameras, cables, network switches.
Stacked-up printers form a miniature mountain. Old-fashioned picture tubes sit face-down on pallets. Flat-screen monitors cluster along a wall like tombstones.
"There are different grades of boards," says owner and president Victor Kianipay, stepping past hulking, dust-covered projection TVs to poke into apple boxes filled with circuit boards. Some are etched mainly in copper; others are heavily embedded with silicon chips. "Everything gets separated," Kianipay says. "There are so many layers and layers of product."
This is electronic waste, or e-waste – a revenue stream for Kianipay, who moved 25,000 pounds of discarded items in last January's post-Christmas frenzy. E-waste also, despite the work of Kianipay and other entrepreneurial recyclers, is an environmental problem of global proportion. The ever-rising tide of electronic junk now totals nearly 50 million tons a year worldwide, according to the Solving the E-Waste Problem Initiative, a coalition of governments, scientists and industry groups based in Bonn, Germany.
Within five years, the annual figure may reach 65 million tons – enough to fill trucks parked bumper to bumper encircling three-quarters of the Earth, the coalition estimates. The waste is a particular concern in part because much of it contains lead, mercury and other hazardous substances, which are released when the waste is melted down to recover gold, silver and copper.
The widespread practice, by some recyclers and waste dealers, of exporting electronic waste to developing countries has created bustling scrap economies in poor parts of China and Africa while exposing large numbers of people to toxins and carcinogens.
"You see all these thousands – literally thousands – of women and young kids whose job is to cook circuit boards," says Jim Puckett, founder and executive director of the Seattle-based Basel Action Network. The group is named after the Swiss city where international agreements were drafted in the late 1980s and early 1990s to stop the "digital dumping."
Although 35 nations have adopted the tenets of the Basel Convention, Puckett says, the United States – by far the largest producer of e-waste – has not.
The U.S. Environmental Protection Agency, in a report posted on its website, says "most discarded consumer electronics end up in our landfills" – a wholly separate environmental problem. No one is sure how much e-waste ends up being exported from the U.S., the EPA says, but "the United States government is concerned that these exports are being mismanaged abroad, causing serious public health and environmental hazards."
Puckett, who has spent years investigating the issue, estimates that "about 50 to 80 percent of what is handed over to recyclers is exported."
Push to recycle
Spurred by environmental activists, Congress and state governments are trying to ensure that e-waste gets properly recycled here. The federal Responsible Electronics Recycling Act, introduced in July and co-sponsored by Rep. Mike Thompson, D-St. Helena, would prohibit the export of toxics-containing electronic junk to nations that cannot process them safely.
The bill has gained bipartisan support and now sits in the House Committee on Energy and Commerce, says Austin Vevurka, Thompson's press aide. "It addresses a growing environmental and health problem and it helps create good-paying recycling jobs in the U.S.," Vevurka says. "It's a win-win."
In addition, President Barack Obama established the Interagency Task Force on Electronics Stewardship in 2010 to encourage development of "greener" electronic devices and to boost domestic recycling.
California became a national pioneer 10 years ago by enacting the Electronic Waste Recycling Act of 2003, which created a system of incentives to prevent the disposal of most video-display devices and certain other types of electronic equipment in landfills. The law applies to laptops and televisions that use liquid-crystal display or plasma screens and especially targets outmoded TVs and computer monitors that have cathode-ray tubes.
Continue reading article on the Orange County Register »
FIND AN ORANGE COUNTY ELECTRONIC RECYCLING FACILITY
WHAT YOU SHOULD KNOW ABOUT ELECTRONIC WASTE DISPOSAL IN ORANGE COUNTY